This website is in no way intended to solicit offers of purchase or trade, but merely to display my collection to the online community. In essence, this is my own, private, Star Wars Video museum. This is the only way I could ever bring every little and large Star Wars tape, disc or spool I own together in one place. My collection is in no way the largest around, but still takes up a lot of space. Most of my Star Wars videos are stacked in cupboards so this website gives me the opportunity to peruse them at will, without having to handle them physically. Additionally, I am hoping to catch the attention of fellow Norwegian collectors, wherever they may be.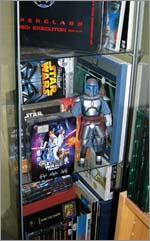 This is where some of my Star Wars videos currently reside, in a cramped display case.

Having scoured the net, I have yet to find much information about the various releases of Star Wars on home video. Plenty of toy collections can be found online, but very few people seem to collect or display the videos only. This website is my way of combating the dearth of information out there. Most of the items I have are common to a certain degree, but I trust the few Norwegian items will be of interest to foreign collectors. This is not meant to be a comprehensive list of all available videos, just a representation of those that are in my posession. Maybe sometime in the future I will compile a reference of all the items I've come across, but for now that is outside the scope of this particular endeavor.

This website was started back in '99 on a dial-up connection, and that's the foundation I've built on over the years. You can see that the earliest entries have really small pictures to work on dial-up. I'm kind of embarassed about having a website based on frames and handcoded HTML in this day and age.
Designwise, my intention was twofold. First, to be as comprehensive as possible and show every item in as much detail as I could. Second, to keep the actual website uncluttered, simple and basic. Some websites out there are so design-heavy and bogged down with ads they are practically useless, something I am determined to avoid.

The sheer volume of the work has been the greatest obstacle to overcome. Taking pictures and scans of absolutely everything I have is quite a task. This is also where the technical resources at my disposal have proved inadequate, and I'm still not satisfied with the quality of all the images. (And there are literally hundreds of images on this website, all original.)

Hope you enjoy it.