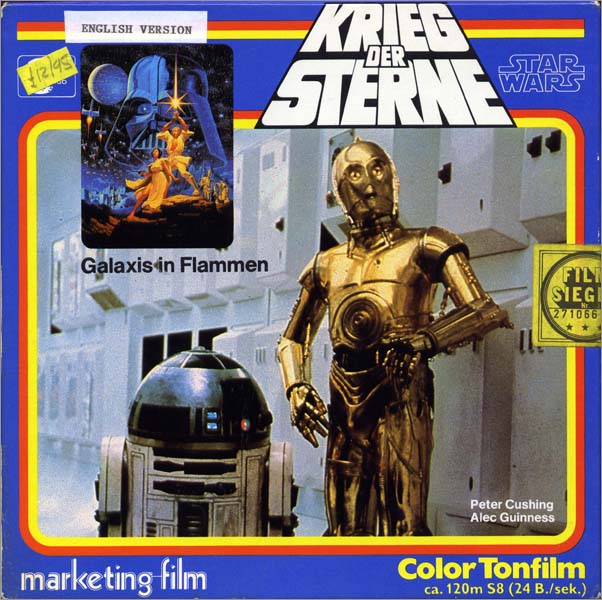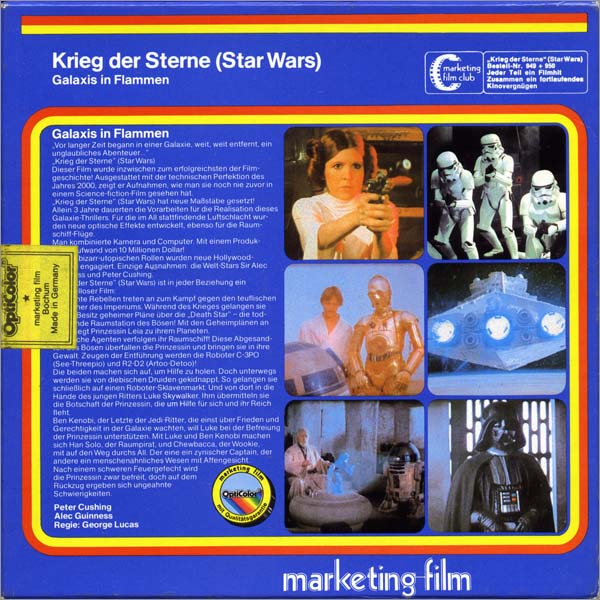 Star Wars, Selected scenes, Super8 reel (17 mins.), Color/sound (english), Marketing Film (Germany) 1981?
These two German releases were a nice find. Both come in cardboard boxes, but have been well cared for.
The german releases differ somewhat from the North American ones.

From IMDB on german 8mm Star Wars:
Note: Contrary to what the below states, the second Marketing Film reel is also 120 meters.

The German "marketing film" released 10 months after the cinema start in West Germany a cut version on Super-8 on two reels in 4:3/color/sound. Reel #1 is running 17 minutes (120 meters), reel #2 is running 9 minutes. This two reels are fitting together and are showing the story from the beginning of the movie to the end of the fight between the Falcon and the TIE fighters right after the escape from the Death Star. The assault on the Death Star didn't make it in this Super-8 version. The beginning shows not the opening crawl, the cut version starts in space over Tatooine with the star destroyer attack on Princess Leias's blockade runner while a speaker summarizes the opening crawl. Almost three years later the German "UFA" released a 17 minutes long version including parts of the final battle against the Death Star and the throne room ceremony. Additional this version includes a lot of sequences not shown in the "marketing film" version: cantina scenes, Tusken raider scenes, the destruction of Alderaan, the Death Star approach of the Falcon after entering the Alderaan system. By editing this three reels together the viewer got a complete overview of the story. But Obi-Wans death is not shown. The 17 minutes US "Ken Films" version (F48) provides two scenes not included in the German version: Vaders conversation on the blockade runner and a part of Luke and Leias swing across the abyss. Editing this two scenes - copying the German audio track - into the "marketing/UFA"-3-reel-version provided the longest available cut version of STAR WARS: 43 minutes.

Source: Forum member Murch at http://originaltrilogy.com/forum/topic.cfm/70-mm-print-of-the-Empire-Strikes-Back-Differences/topic/2321/.